Some favourable policies, combined with good market conditions, has seen the renewable energy sector emerge as a sunshine industry. Solar, in fact, has made considerable progress.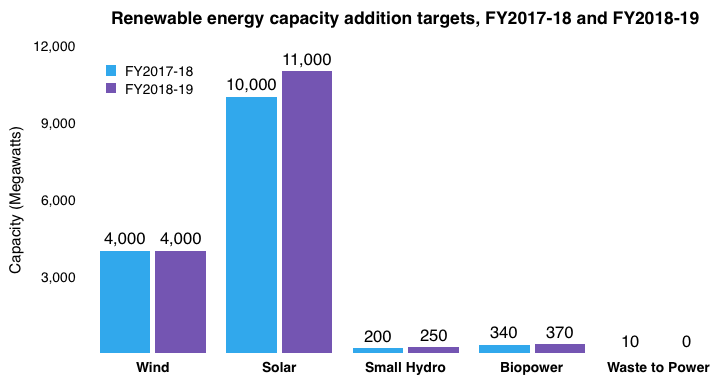 Over the last four years, large-scale solar has seen an average annual growth rate of over 70 per cent. The installed solar capacity has increased from 2.6 GW in March 2014 to 23.1 GW in June 2018 – large-scale solar comprises over 94 per cent of this.
At under Rs 3 per unit on an average, wind and solar energy is now cheaper than coal power.
However, 2018 witnessed a slowdown triggered by financial difficulties being faced by distribution companies, import tariffs, and subsequent tariff increases.
Some of the key concerns the sector faces today: –
Discoms – distribution companies — are under-performing; the most recent attempt to reform them, the Ujjwala Discom Assurance Yojana, has not yielded desired results.
Solar rooftop has failed to make any headway in the current market which is skewed towards large-scale renewable energy.
Distributed energy has been pushed to the back-burner. Experience shows that grid connectivity does not lead to availability of electricity or consistent supply.
Inconsistent policy has been the bane of the sector.
"For the first time, decarbonised electricity appears feasible in the foreseeable future; it is not an abstract vision. The question is, whether India will reach peak coal and 100 per cent renewable quickly and efficiently, or whether it will be a delayed process, merely egged on by global momentum."
Reference- TOI, Centre for Science and Environment (CSE) Report