Amazon, Mphasis, Dell Technologies, HTC Global and BORDA, the leading corporates in Bengaluru have come together to partner with United Way Bengaluru (UWBe), BBMP and Citizen's Group to construct an eco-friendly Sewage Treatment Plant (STP) of 1 million litres a day (1MLD) capacity at the Mahadevapura Lake in the city.
This multi-stakeholder effort is aimed at rejuvenating the Mahadevapura Lake, which adjoins their offices at Bagmane World Technology Centre.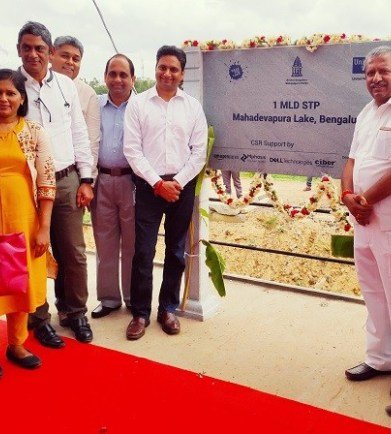 The STP will tap and treat 1MLD wastewater flowing in an adjoining drain and discharge it into the lake every day.
This STP is an eco-friendly natural solution. It is a chemical free process with minimum dependence on electricity for treating the wastewater.
It is an anaerobic process called DEWATS, which aims to mimic natural processes by providing the right conditions for microbial action. 
The Bangalore-based Consortium for DEWATS Dissemination Society (CDD Society) have provided the technical expertise for design and implementation of the STP. The construction was led by Revlon Build tech.
The rejuvenation of the Mahadevapura Lake will be able to restore the rich biodiversity and inspire citizens to create hubs for a vibrant socio-cultural life.
Bengaluru which was once a city of lakes is well on its way to reclaim its past. With this initiative, Mahadevapura Lake will now have 1 Million Litres of sewage Water treated and put back into the lake every day.
With water taking center stage in the push for cleaner and greener environments in recent times, this initiative is a step towards meeting the objectives of policy makers, corporates and civil society at large.
This is an Agency News-Feed