World's largest solar tree was recently unveiled by the CSIR Central Mechanical Engineering Research Institute in India. The gizmo certainly looks stunning, festooned as it is with 35 solar panels branching out from a central tower.
The installed capacity of the Solar Tree is above 11.5 kWp [kilowatts peak]. It has the annual capacity to generate 12,000-14,000 units of Clean and Green Power.
That doesn't sound like much to write home about, but then again, the solar tree is aimed squarely at the market for solar energy in the agricultural sector, and it is tailored to the needs of farmers in India.
The Solar Trees were designed in a manner to ensure minimum Shadow Area, thus potentially making these Solar Trees available for widespread usage in Agricultural activities such as High Capacity Pumps, e-Tractors and e-Power Tillers.
In other words, the farmer loses a minimum of arable land (more on that in a sec), while avoiding the cost and volatility of fossil fuels.
In addition, the new solar tree is designed to be grid-connected, potentially enabling farmers to generate income by shunting off any excess energy.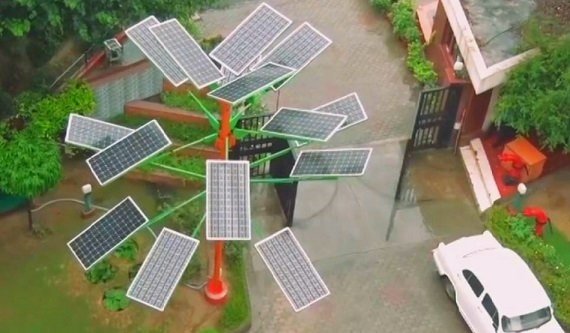 Solar Power Tree rotates on its axis with all the solar panels together that generates 10-15% extra power from the sun with direction from East to West.
Rotation is given to the solar panels by rotating the trunk of the tree from its root and can also be done manually.
Salient Technical Competing Features: 
It gives 100 times more solar power compared to conventional SPV layout – consumes 1% of land surface for same power.
It holds the panels at a higher height – gets more sun.
It can be facilitated with water sprinkler at the top of the SPT.
Even the paddy lands, agro-gardens, roads or parks can be utilized for production of megawatts of solar power without hampering any cultivation work .
It can produce 25% to 30% more power as – all panels can be rotated by 180⁰ in the afternoon and morning towards the east and the west by an easy mechanism.
Considering the small footprint of the solar tree relative to its striking design, the concept may make an eye-catching complement to electric vehicle charging stations at company parking lots and corporate campuses.
Reference- Times of India, Hindustan Times, CSIR Media Release, PIB