At present, India has a total installed renewable energy capacity of 90 GW. This includes 39 GW of wind and 37 GW of solar generation capacity.
If it has to achieve the ambitious target of 175 GW of clean energy capacity by 2022, India would need an additional investment of Rs 1.75 lakh crore for having 35 GW of renewable power generation capacity added by 2021.
Implementation strategy of renewable projects and innovation in tendering them to attract investors would play a key role in 2021.
India needs to design innovative tenders with the inclusion of wind, solar and energy storage to ensure that renewable can replace fossil fuels to a great extent.
Despite pandemic confidence of investors in the renewable energy sector has soared further as was evident from the solar power tariff breaching the psychological barrier of Rs 2 per unit.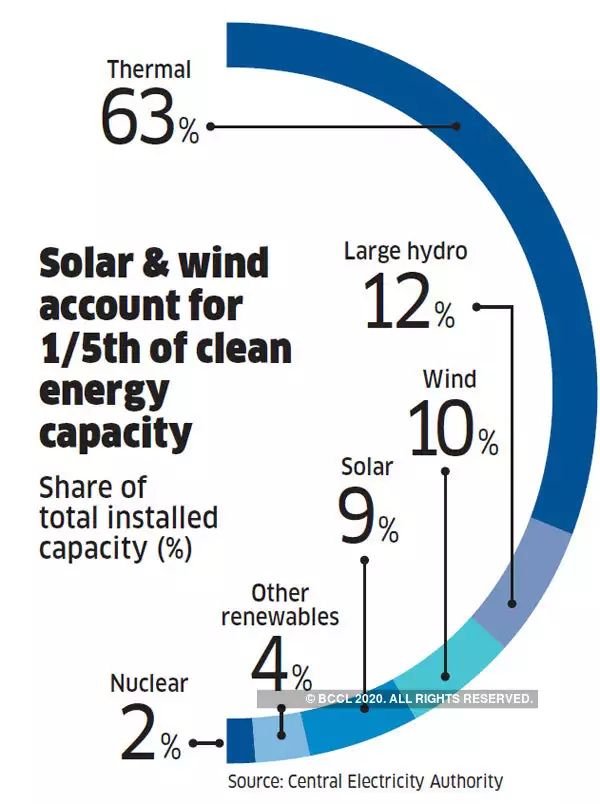 Now, in order the the maintain the momentum, the government will have to be more proactive and innovative to attract investors into the sector for example the recent concluded round the clock, hybrid and manufacturing linked auctions.
A $20 billion USD per year opportunity exist in Indian clean energy space as the cumulative capacity of 20 GW is scheduled to be commissioned but for the investments to flow government will have to address challenges such
as land acquisition,
sub-optimal utilization of power evacuation infrastructure and
higher transmission losses and charges.
As of today around 50 GW of renewable energy capacity is under construction and there is also a strong pipeline of 30 GW for new bids.
Reference- Mercom India, livemint, Hindustan Times, Economic Times, MNRE website