The world produced nearly 45 million tonnes of e-waste in 2016 as consumers and businesses threw out their old smartphones, computers and household appliances – material worth an estimated $62.5bn (£45.6bn).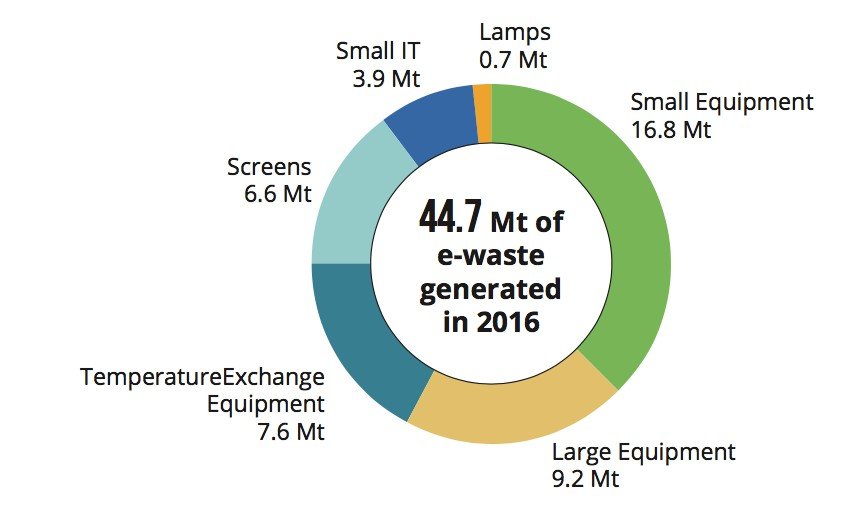 Only 20% was properly recycled.
In Europe, where the problem is particularly acute, researchers estimate only 12% to 15% of mobile phones are properly recycled – despite around 90% of the population owning one.
E-waste, which is often shipped illegally from the West to sprawling, toxic dumpsites in countries like the Philippines, Ghana, Nigeria and China, is expected to grow to more than 52 million tonnes by the end of 2021, and to double by 2050 – making it the fastest growing type of domestic waste in the world.
The environmental impact ranges from huge carbon emissions to pollution of water sources and food supply chains.
To address this growing menace of e-waste, France (probably the first country in the world) has enacted a Rule in January 2021 which require manufacturers to display ratings – similar to the energy ratings system already widely in place – that are calculated using five measures:
ease of repairability,
price of spare parts,
availability of spare parts,
availability of repair documentation and
a final measure that will vary depending on the type of device.
After the first year,a fine of up €15,000 (£13,300/$18,200) will be given to producers, distributors and sellers who don't comply.
The bill also includes a "durability" index from 2024 that will have new criteria such as product reliability and robustness.
These developments will require significant changes in how goods manufacturers currently operate and the products that they produce however it's hoped the French system will start a race between companies to improve repairability.
Reference- BBC Future Planet, Right to Repair Campaign, DigitalEurope's position paper,