The Union Budget 2023, which includes an outlay of Rs 35,000 crore for green energy transition, as well as the recently announced Green Hydrogen mission, which includes an outlay of Rs.19,500 crore, has reaffirmed the Government of India's commitment to achieving net zero targets and making India a hub for renewable manufacturing.
The government has firmly placed sustainable energy transition at the center of India's economic growth, encouraging the Net Zero target. The specific steps taken which are aided by budgets provision such as viability funding for a 4000 MWh battery storage energy system, pumped hydro, a Rs 20,700 investment for renewable energy evacuation from Ladakh, and the inclusion of green credit in the Environment Protection Act.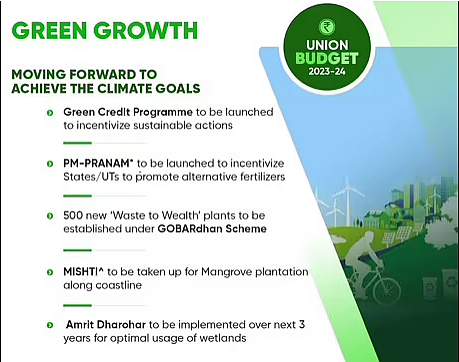 These steps are anticipated to enhance domestic production and lessen the renewable sector's reliance on imports.The Union Budget 2023 clearly indicates, India is ready to establish itself in the leadership position on the global green energy transition.
The Budget 2023 has extended the subsidies on electric vehicle batteries for another year, doubled the funding in the FAME scheme, and decreased the Goods and Services Tax (GST) on electric vehicle sales from 12% to 5%, making EVs more affordable in India. Lithium battery customs duty has also been cut from 21% to 13%.
A strong government commitment to green missions will boost job creation, research and development, and export prospects, all while contributing to net-zero goals. So the core of Budget 2023 is improving living quality, inclusive growth, and sustainability.
The green economy is emphasized, and all areas of energy transition and security are extensively emphasized. As a result, India should outperform its current position in renewable energy, including storage and green hydrogen.
Reference- Business Standard, Economic Times, Mercom India, Money Control, CNBC, NDTV