The cruise industry is generally seen as unsustainable, contributing roughly 3 percent of all greenhouse gas emissions. However, a new type of ship could contribute to a more sustainable future for cruising.
Norwegian cruise company Hurtigruten has unveiled a prototype of its fully electric passenger ship and provided further information on its operational plans for its launch in 2030. The ship of the future will be powered by electric batteries that charge while the ship is docked and can accommodate up to 500 guests in its 270 cabins.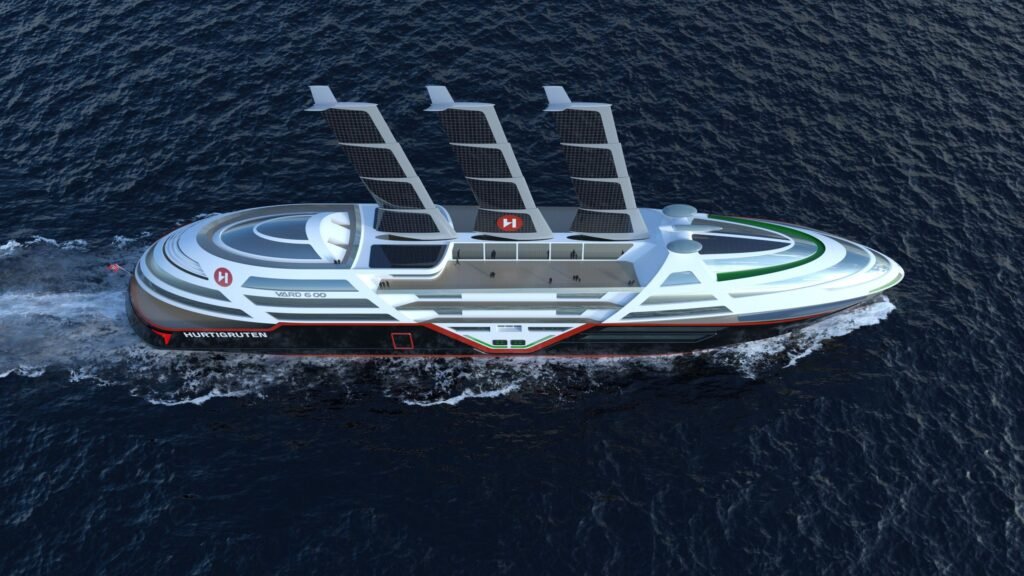 Hurtigruten expects its vessel to be able to travel between 300 to 350 nautical miles or approximately 345 to 403 land miles. The ship will feature retractable sails equipped with around 16,150 square feet of solar panels to decrease dependency on batteries during windy conditions. The advanced sails will have the ability to shrink to fit under bridges and adjust their angles to maximize wind capture.
While some technology required for the ship is almost complete, other components will require further examination and testing. Initially, the ship will only operate on the Norwegian Coastal Express route from Bergen in the south to Kirkenes in the north.
Hurtigruten has been operating this route for over a century, making it convenient for them to utilize sustainable energy infrastructure and existing shore power connections. It is likely that the company will be prepared to begin constructing the ship by 2027.
In the future, Hurtigruten aims to make all its ships electric, but currently only two ships are partially powered by electricity. However, the company acknowledges that more advanced technology is required for ships to reach remote locations like Antarctica and Svalbard.
The company has made efforts to promote sustainability in the cruising industry. They joined forces with the Clean Arctic Alliance to launch the HFO-Free Arctic Campaign in 2017, aiming to eradicate heavy fuel oil usage in Arctic shipping. Their introduction of two hybrid electric-powered ships made them pioneers in the industry. Additionally, in 2018, Hurtigruten implemented a ban on all single-use plastic on their ships.
Reference- New York Times, the Washington Post, National Geographic, AFAR, Forbes, Lonely Planet