While falling tariffs and industry-friendly government policies are a boon, low entry barriers and cumbersome procedures are hindering the growth of rooftop solar in India, says Kunal Chandra, Managing Director, Proinso India in a chat with Clean Future.
Give us a brief profile of Proinso India and your core business activities in India?
As a company we have been present in India since 2011. Proinso India is a full-fledged subsidiary of Proinso – the leading global distributor, integrator and manufacturer of Proinso PV Rack solar rooftop structures. India is a very important market for us and consequently we have set up a fully equipped R&D centre here and have been increasing the scale of our investments every year.
India is now being used as the base for manufacturing of our mounting systems called Proinso PV Rack which covers trackers for utility scale projects and multiple aluminium solutions for rooftop.
Our Made in India products are being exported to different parts of the world through our existing sales channels and we are building on the same.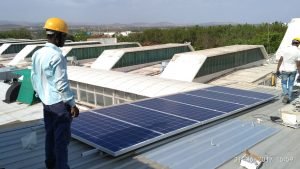 Tell us about Proinso's manufacturing spread and key products & services that target the Indian market?
Proinso has 3 main divisions – EPM, Distribution & Integration and Manufacturing. EPM stands for Engineering, Procurement & Management wherein we support IPP's, EPC's and system installers with our expertise in engineering and plant optimization. We also help them with their project procurement and supervise the construction to ensure everything is executed as per design.
We also manufacture mounting systems for both ground mount and roof top projects. For rooftop projects we have multiple solutions for different types of roofs which are aluminum-based.
For ground mount projects we have just launched our single axis tracker in partnership with Omron from Japan wherein we are able to increase the plant generation by over 20 percent.  We are also distributors of leading global brands here wherein we are able to leverage our global procurement volumes and pass on the benefits to our clients.
What is your current market share in your product categories & how do you plan to scale it going forward?
We currently hold between 10-20 percent market share across different categories and are adding more offerings to meet the growing demand. As a company, we are always striving to stay ahead of the market requirements. Being a global player we are able to bring the latest technologies, products and solutions to the fast developing solar market in India.
Elaborate on your current installed solar capacity, key ongoing (residential & commercial) projects and major clients in India?
Globally we have executed projects close to 3 GW and in India we have crossed 300 MW. We cater to residential, commercial & industrial as well as utility projects. Currently under EPM we have close to 25 MW of ongoing projects. Some of our key customers include Bosch, Godrej, Tata, Mahindra and Refex Energy to name a few.
What is the pricing mechanism/financial model you offer for residential/domestic solar/rooftop solar plants?
We usually try and bundle our offering and send them as kits to site so there are cost efficiencies for our customers. Under financial modeling, we offer construction finance to EPC's for smooth project execution through a secured mechanism. We also offer OPEX and RESCO solutions to end users so they start saving on their electricity bills will zero Capex.
What is your assessment of the current market situation & biggest challenges for solar products in India?
The current market scenario is looking positive given the growing awareness and need for clean energy as also the supportive policy environment created by the government to push solar power in the country.
However there are some challenges that need to be addressed. To begin with, the entry barriers are quite low which allows some companies to market and sell inferior quality prices at low prices.
Also we are yet to witness the impact of the recent introduction of GST and the looming threat of anti dumping on modules which could cause the prices to increase.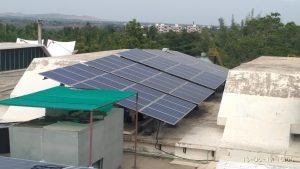 A recent study states that deployment of rooftop solar has not met with the desired response across most Indian metros with only 1GW worth of installations (as of Dec 2016) as against the target of 40GW rooftop solar target by 2022. What according to you are the primary factors responsible for this? What needs to be done to reverse this trend? 
The target is an ambitious one but I think with the right drivers we can definitely try and achieve some good numbers. The primary reasons that rooftop has taken a while to take off in India was due to high capex and the fact that key government policies were not in place. Even today despite net metering being introduced in most states the procedures involved are quite cumbersome.
However on the positive side, solar tariffs have come down drastically in the last year or so making it extremely viable for anyone and everyone to setup solar rooftop panels not just as a green initiative but also as a pocket-friendly source of power.
Given this situation do you think India should lower its ambitious targets or does the government need to be more proactive in encouraging rooftop installations across urban cities?
In reality I think achieving the target of 40 GW on rooftop will be extremely challenging but we need to try and ensure we get as close to this goal as possible.
In my opinion, the next 5 years will see exponential growth as most commercial and industrial customers will want to utilise their roofs to ensure costs savings. I think from the government's perspective they need to simplify the procedures to encourage more people to install rooftop solar.
There is a perception that the success of solar rooftops may result in discoms losing their high-paying customers. What is your counter to this argument?
We have seen this to be a challenge and in some states discoms make life extremely difficult for high paying customers who want to switch to solar. However I believe each customer should have the right to choose his power supplier more so since solar tariffs today are almost on par with those of conventional power.
There are always going to be breakthroughs in every industry and in the power industry today renewable energy is paving the way so the consumer should be allowed to benefit from the same.
What is going to be your strategy to leverage the many growth opportunities offered by the government's industry-friendly policies?
With the market dynamics changing so fast we are always trying to keep up and ensure we are ahead of the curve in terms of offering the best possible products and solutions to our customers. We want to cater to all segments of the market and have the right offerings to do so and are dedicated to serving the solar industry in India.
Lastly, what according to you will be the key growth drivers for the solar energy products & services markets in India going forward?
I think the main growth drivers will still be the government-backed policies from the centre and state. The falling prices of solar has really given a huge boost to the sector as it is now a economically viable investment for everyone which will allow rooftop solar to boom.