With a natural rubber apocalypse impending, petrochemical stakeholders such as Goodyear Tire & Rubber Company are looking for sustainable rubber alternatives, and they are focusing on soybean-based tyres.
Goodyear said on Wednesday that its Metro Miler G152 and G652 tyres will be given a soybean makeover, reducing the amount of synthetic rubber without compromising performance.
A soybean mix replaces approximately 11 liquid ounces of petroleum oil per tyre in the new tyres. That's just around one can of beer's worth of gasoline, but Goodyear North America underlines that the fleetwide savings may be substantial.
According to Goodyear, outfitting a typical fleet of 1,600 city buses with its new soybean tyres would save around 20 barrels of oil.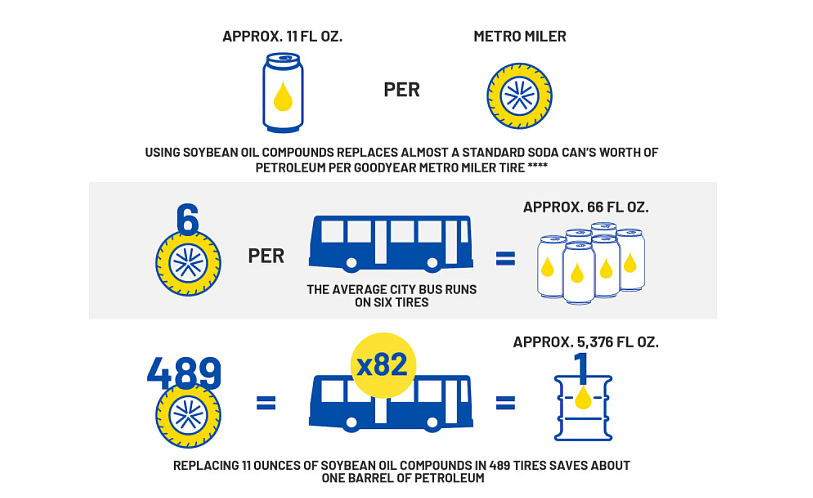 The Metro Miler G152 and G652 also include technology that prevents sidewall damage, increases durability, and extends tyre life.
Reinforced shoulders and steel sidewalls contribute to long casing life, while integrated sidewall wear indicators make it easy to detect excessive scuffing wear.
These tyres also include a multi-compound, scrub-resistant tread that can withstand the rigours of transit applications while also extending tread life by preventing excessive wear, chunking, cracking, and chipping.
Customers wishing for tyres built with more sustainable ingredients may now buy the Metro Miler G152 and G652 tyre types made with soybean oil, which are presently in production.
This is a PR Agency Feed; edited by Clean-Future Team