ArcVera Renewables, a US-based renewable energy consultancy, has recently published the July 2021 India Wind Anomaly Map which showed that India's southwest monsoon winds this year were far more favorable for energy production than the low speeds recorded last year.
Gujarat-based farms experienced a turnaround and other wind-producing states experienced much better generation in July 2021.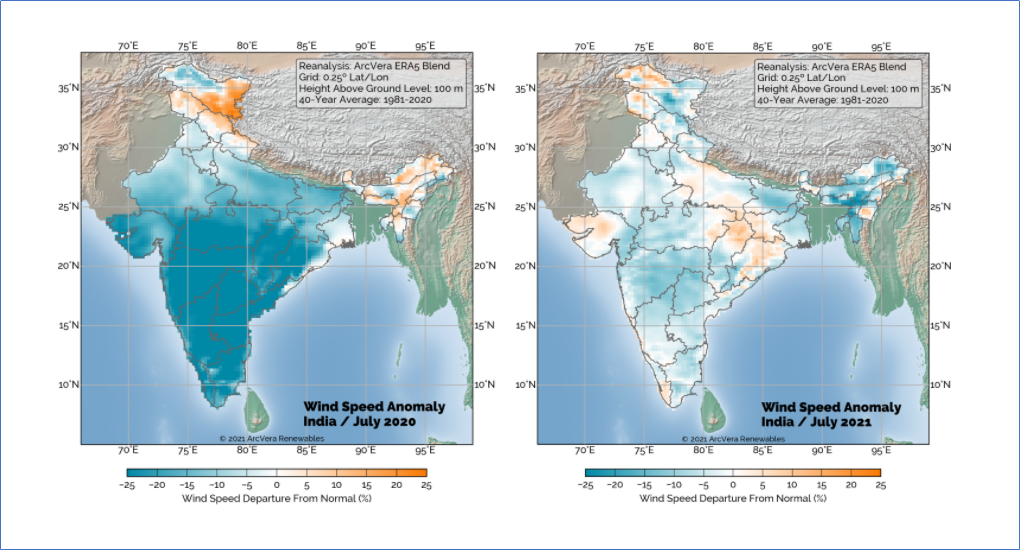 The analysis showed that the speeds recovered substantially in July 2021 and were above average in some cases. The following July 2020 and July 2021 anomaly map shows the improvement in July 2021 (right side) compared to July 2020 (left side):
The study reviewed each of the Indian states with significant operational wind projects installed. It shows the southwest monsoon of 2021 were far much more favorable for energy generation than last year.
The anomaly maps provide a quick way to see today that the 2021 wind resource is much closer to the long-term norm, and this is helping his clients stay focused on longer-term project development.
This is a PR Agency Feed; edited by Clean-Future Team