Tata Motors has revealed an electric version of its popular compact truck, Ace, as part of its ongoing efforts to electrify its portfolio. The firm has also negotiated agreements to supply the Ace EV with prominent e-commerce operators such as Amazon, BigBasket, City Link, DOT, Flipkart, LetsTransport, MoEVing, and Yelo EV, and it has already received orders for 39,000 units.
The Ace mini truck has been a trailblazer, a category creator, and a light of hope for numerous companies and millions of people in India.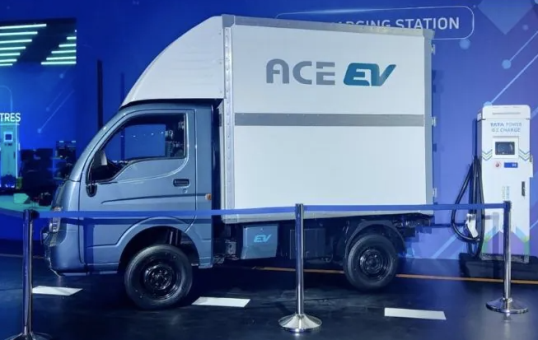 Tata Motors is reaffirming its commitment to bringing the advantages of electrification to all of the country's businesses by introducing the Ace EV.
Today signals the beginning of their transition towards e-cargo mobility.
Tata Motors boasts that the Ace EV is the first vehicle to use their 'EVOGEN' powertrain, which has a certified range of 154 kilometres on a single charge. The Ace EV is powered by a 27kW (36hp) motor with a max torque of 130 Nm.
Ace has been a steady winner since its introduction in 2005, with over 2 million proud owners supporting it. Ace EV would now be the catalyst for the next zero-emission revolution in India's cargo sector.
The company had partnered with leading e-commerce players and the logistics service providers to understand their requirements while developing the Ace EV. The price of the Ace EV would be announced when deliveries start from the next quarter.
Reference- CNBC, Economic Times, Zee News, Rushlane, HT Auto, Tata Motors PR