Carmakers claim that measures to reduce air pollution limits would be too costly, yet new research indicates that European automakers are earning record profits and paying out unprecedented amounts to CEOs and shareholders. Since 2019, Europe's five major automakers have more than quadrupled their yearly earnings to €64 billion.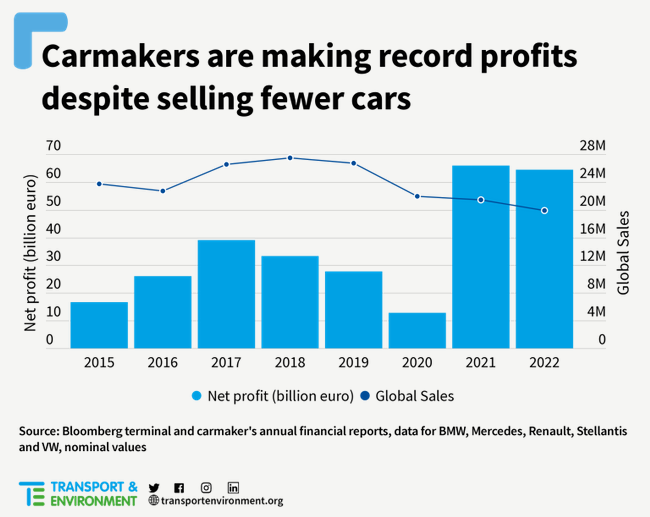 According to Transport & Environment (T&E), the auto industry's fight against stricter pollution regulations prioritizes corporate profit over public health.
Current EU plans to strengthen air pollution regulations, would cost no more than €150 per vehicle. The proposed "Euro 7" limitations for hazardous pollutants from road transport, which cause 70,000 premature deaths each year, are being debated by lawmakers.
The EU Commission has proposed weak guidelines that fall well short of the recommendations of its own experts and preserve the same pollution limits established for petrol automobiles more than a decade ago. Even this idea, however, is opposed by the automobile industry, which believes that compliance would be prohibitively expensive.
Despite selling 25% fewer cars overall, the five largest European automakers have all increased their profit margins since before the pandemic. BMW almost tripled its profit margin in 2022 compared to 2019 while Stellantis more than doubled its margin — as part of an industry-wide switch from selling more mass-market cars to selling fewer but expensive premium vehicles.
So, T&E is proposing for more stringent emission restrictions that would cost Europe's largest manufacturer, Volkswagen, €5.7 billion over the course of the legislation – barely 37% of its 2022 earnings.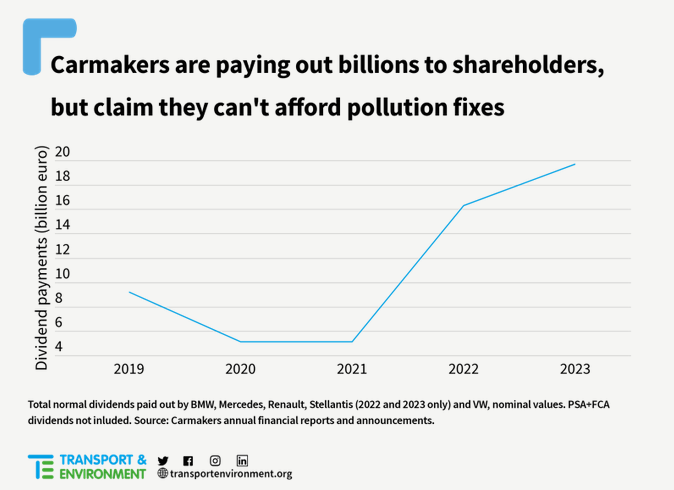 We don't fault carmakers for making record profits, but assertions that they can't afford low-cost pollution remedies are simply corporate greed. The auto industry is increasing revenues by selling more costly luxury automobiles while saying that environmental regulations would make cars unaffordable. EU legislators must prioritize public health over the industry's profiteering.
This article is based on Transport & Environment (T&E) report; edited by Clean-Future Team.