The majority of transportation demands in the Indian subcontinent are covered by two- and three-wheelers, which are also electrifying; nevertheless, there is a surge in electric four-wheel vehicles. With almost 21,000 sales in the first quarter of 2023, BEVs currently have a market penetration of 2.1%, up from 0.3% just two years ago.
Over the same time period, conventional hybrids (HEVs) increased from 0.02% to 2.2% market penetration, with over 22,000 sold. HEVs are outselling BEVs, which is the opposite of the case in most other nations. The combined sales of BEVs and HEVs reached 4.3% of the Indian passenger vehicle market.
For instance the market in Northern Europe is gradually excluding Toyota HEVs, but the company has not curtailed output, according to production numbers. Toyota still produces 8 million cars annually, so where are these cars going? Certainly, a lot of them are selling in Australia and in New Zealand, but the growth in the Indian sub-continent is quite significant.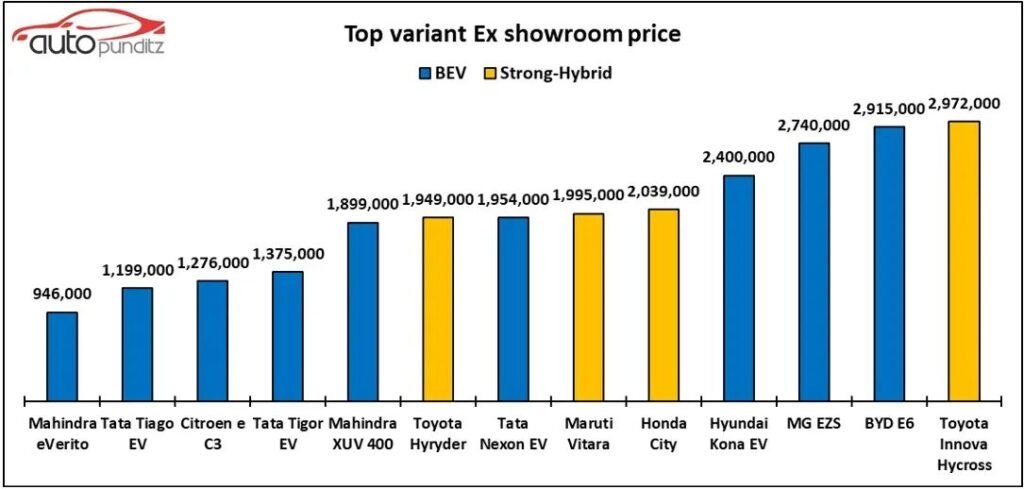 Homegrown Tata and foreign-owned Toyota dominate these market, Tata with shares of 73% in the BEV market and Toyota with share of 83% in the hybrid industry. The best-selling BEV continues to be the Tata Tiago EV. The best-selling HEV is the more expensive Toyota Hycross.
Current trends are expected to continue as "Japanese automakers invest in strong hybrid technology, which combines a petrol engine with an electric motor and battery."
Strong hybrids provide the advantages of fuel efficiency and low emissions without causing range anxiety, making them a popular choice among customers. Furthermore, the lower production costs of strong hybrids compared to battery EVs may make them more accessible to a broader range of consumers."
Reference- Auto Punditz, Autoblog, HT Auto, Autocar India, Rushlane