E-rickshaws are driving the "Indian EV Revolution" at the moment. They account for 83% of India's electric vehicle market, and an estimated 2 million electric rickshaws are currently on Indian roads, with 15,000 new electric vehicles sold each month. Since many e-rickshaws are still unregistered, these estimates are likely to be higher. By 2024, the market is estimated to sell 925,000 units.
Because of their low shipping costs, inexpensive pricing, and ability to move through busy city streets, electric rickshaws are in high demand across the world. It is also gaining traction among retailers due to its low-cost last-mile delivery, which helps enhance earnings.
In terms of financial flexibility, the annual credit market for EVs is expected to grow to Rs 3,700 by 2030, according to a report by the NITI Aayog and the think tank RMI India.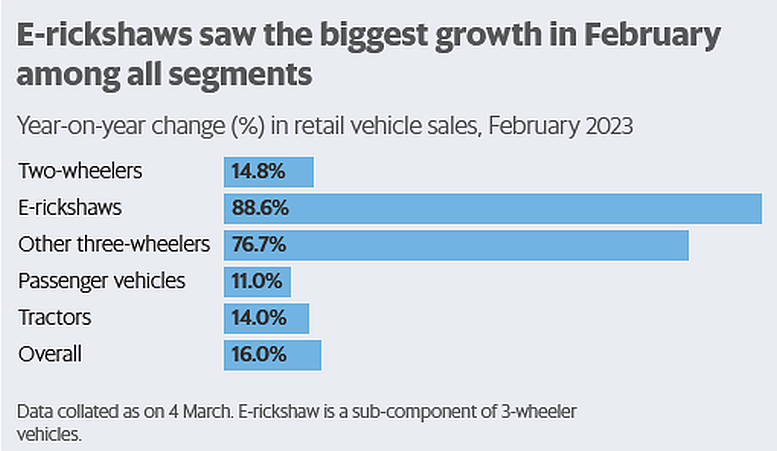 According to Vahan portal, Uttar Pradesh has the most e-rickshaws (403,411), followed by Delhi (117,885) and Bihar (108,669). Only eight states have more than 1,000 registered e-rickshaws. Delhi has the highest density of e-rickshaws per million people of any Indian state.
Thousands of people are employed by these battery-powered vehicles. Economic and environmental benefits, as well as a favorable government policy environment, are the primary drivers of this huge expansion.
Reference- Federation of Automobile Dealers Associations (FADA), Live Mint, Niti Aayog, Vahan Pprtal, Economic Times