Technology startups are actively looking for green alternatives to address environmental challenges, including waste management. Joining the league is Bengaluru-based Waste Is Gold Technologies, which is revolutionizing waste diversion by converting it into valuable resources, driven by the vision of creating long-term solutions for waste disposal and treatment while reducing the burden on landfills.
The company was founded in 2013 and achieved a major milestone in 2016 by introducing Gold Composter, claiming to be the world's fastest organic waste composter. This energy-efficient composting technology is a special innovation that takes advantage of a unique combination of specialized bacteria and an advanced bioreactor.
This advanced composting technology is a game changer in organic waste management. By carefully controlling key factors such as temperature, air circulation, oxygen levels, particle size and moisture content, they ensure fast and efficient organic waste conversion in just 6 to 8 hours of compost processing.
The resulting organic waste compost is ready for immediate use; there's no need for additional processing or curing. The resulting compost can be placed directly into aerated bins for storage, making it readily available for later use.
From reducing greenhouse gases to improving air and soil quality, a composter offers various environmental benefits, making it an environmentally friendly and sustainable solution to organic waste management.
Waste is Gold has developed a decentralized zero waste technology model to guide bulk waste generators in metro cities in India towards achieving zero waste status. The model unfolds through a comprehensive eight-step approach. It begins with educating waste generators about the importance of source separation, with an emphasis on separating organic and inorganic waste.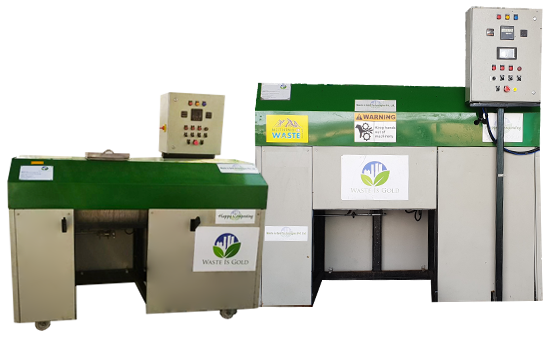 Meanwhile, the Waste is Gold program supports the sorting and recycling of inorganic dry waste into different categories, such as plastics and metals, promoting the circular economy and reducing landfill waste.
The development of energy-efficient and affordable portable composting devices by Waste is Gold Technologies targeting individual homes and villas represents an important step towards promoting sustainability, urban agriculture and a greener environment.
Reference- PR Agency Feed, Outlook Traveller, Waste is Gold website, The Better India