The first single-personal electric aircraft has arrived and electric urban mobility has taken a giant leap forward. Electric aviation startup Opener is proud to present its idea for how an electric aircraft for consumers should look. It should look like the company's new BlackFly.
The BlackFly Personal eVTOL is hailed as the world's first ultralight, fixed-wing, electric vertical take-off and landing (eVTOL) aircraft, a single-seat "personal aerial vehicle" (PAV).
The best part is that "anyone" can own and operate a BlackFly Personal eVTOL — there's no need for formal licensing, at least here in the US.
The BlackFly Opener is amphibious and is primarily designed as a small grassy area hopper. It can travel up to 25 miles at 62 mph in the US, or over 80 mph elsewhere.
Using a fixed tandem-wing aircraft design, the BlackFly is considered an "Ultralight" in the US and a "Basic Ultralight" in Canada. It is controlled using a joystick and fly-by-wire electrical controls.
The cockpit rests inside an epoxy-impregnated carbon fiber structure. As far as safety, the company went for "triple-modular redundant flight systems." The drivetrain uses 8 fixed propulsion units with 4 redundant elevon pairs, and a ballistic parachute is optional.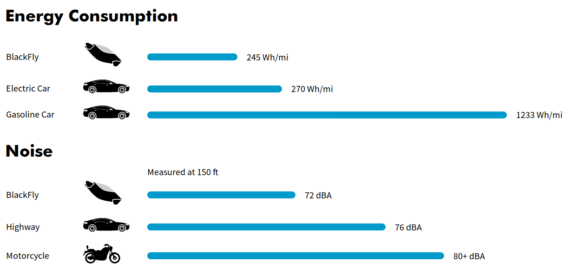 It can carry a maximum payload of 250 lbs with an 8 kWh battery pack in the US, or 12 kWh for the rest of the world.
Its maximum climb rate and descent are set to 1000 feet per minute. It can take off and land in just 36 inches of space, about 91 centimeters.
Depending on which charging system you have, a slow charge can take up to 7½ hours to 25 minutes if you have a dedicated 240V charger delivering 2×50 amps.
Opener's long-term vision is to have these eVTOLs integrated into a rural and urban commuting network patch ideally powered by renewable energy.
Reference- OPENER website, Cleantechnica, YouTube