India's leading PV Junction box manufacturer, DhaSh expanding its manufacturing capacity to 5GW by end of 2020 to support Indian module manufacturing capacity at maximum.
After getting enormous success at Split Junction box and 24A Rated Non-Potted PV Junction box, DhaSh being an innovative enterprise, is pleased to introduce Fully Potted junction box with Integrated Module Type diode.
When it comes to saving a PV Module under various circumstances, most of the times it is the Junction Box which has to jeopardize itself and ensure the safety across the PV Array.
Major failure modes include burnt bypass diode, burnt junction box and low power, while the root cause attributes to Energy Over Stress in most cases.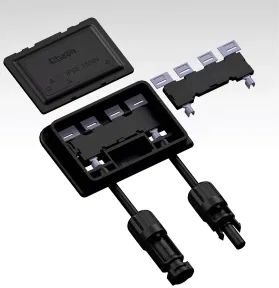 DhaSh PV Technologies, introduced the Fully Potted Junction Box model in 15A & 20A rated current and engineered with superior heat dissipation ability through the usage of "Integrated Module Type" Diodes & complete potting of the internal live parts.
The module type diodes in terms of performance excels over the conventional diode package on the aspects of temperature tolerance & excellent switching response.
The complete potting of internal live parts will give the product a cutting edge in terms of ingress protection to water and dust entry as well as excellent heat dissipation capability under harsh conditions.
This integrated module type diode is a great innovation and getting considered as path breaking solution for high efficiency PV modules.
This is a Businesswire Feed; edited by Clean-Future