Years of disappointing shareholder returns by the oil and gas industry, this year's pandemic and the clean energy push have encouraged investors to move their money out of traditional industries and into renewables.
Solar stocks dazzled in 2020 and looked set to wrap up a year ravaged by the COVID-19 pandemic with triple-digit gains amid a shift in focus to 'clean energy' as the outbreak decimated the global oil industry.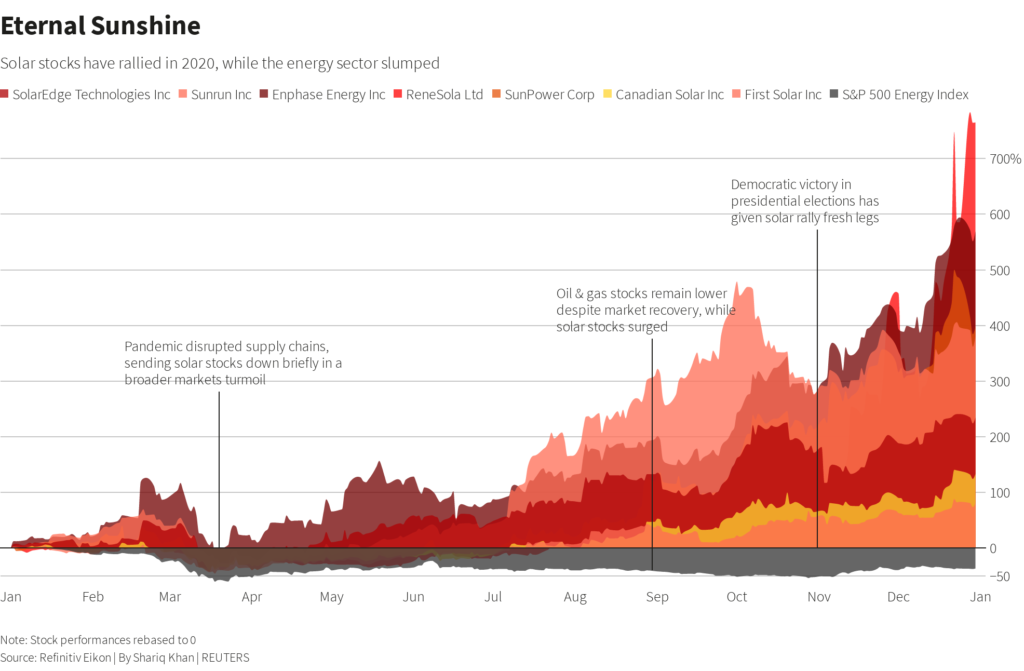 Solar equipment makers Enphase Energy Inc, ReneSola Ltd and Canadian Solar Inc, among others, recorded multi-year highs.
Top trade group Solar Energy Industries Association and energy research firm Wood Mackenzie forecast U.S. solar installations will surge 43% this year, just shy of a pre-pandemic forecast, highlighting the industry's quicker-than-expected recovery from a virus-related slowdown.
Underscoring the trends, leading brokerage J.P. Morgan hiked its price targets across the board for renewable companies.
Renewable energy is growing robustly around the world this year, contrasting with the sharp declines triggered by the Covid-19 crisis in many other parts of the energy sector such as oil, gas and coal, according to a report from the International Energy Agency (IEA).
This rise — representing almost 90 per cent of the total expansion in overall power capacity globally — is led by wind, hydropower and solar PV.
India is expected to be the largest contributor to the renewables upswing in 2021, with the country's annual additions doubling from 2020.
Reference- EA Renewables 2020 Report, Bloomberg, Mercom India, J.P. Morgan Report, Wood Mackenzie Report, Reuters