Some innovations in aviation industry are already promising marginal improvements in the short term, such as artificial intelligence (AI) assisted navigation systems, which can help identify ways to reduce the need for burning jet fuel; design developments such as folding wingtips to expand wingspan, as seen on the recently launched Boeing 777x; and modifying flight routes to avoid contrails, which are responsible for the majority of aviation's non-CO2 warming impacts.
Yet, the types of "radical reforms" required to dramatically shift the needle are still being worked on.
Hydrogen-powered engines are the dominating technology here. This is been done in space rockets, thus it is a pre-existing solution.
There's also the growing field of electric-powered plane concepts such as Sweden-based start-up Heart Aerospace, with airlines including Air Canada and United planning to fly its electric planes on short domestic routes.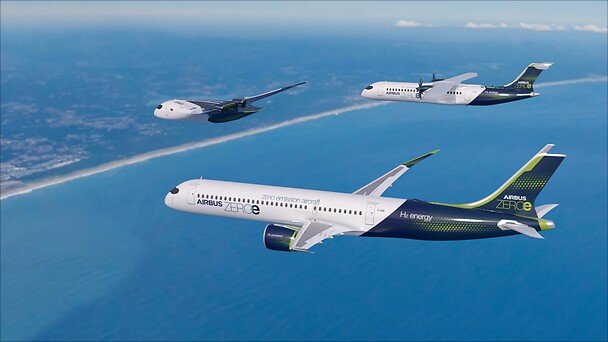 Airbus has bet big on hybrid hydrogen aircraft, announcing three futuristic ZEROe aircraft concepts, including one trippy, funhouse mirror-looking plane called the "Blended Wing Body."
Although hydrogen, electric, and hybrid options might play an important part in decarbonizing short- and mid-haul aviation, many experts believe these novel ideas will face significant challenges in long-haul flights due to their restricted flying ranges and the weight of today's batteries. This is a significant loss given that flights lasting more than six hours are responsible for the majority of aviation emissions.
As a result, many experts feel the second scenario is more scalable, but less science fantasy. The emphasis here is on producing sustainable aviation fuels (SAF) that can be used in current aircraft engines.
These fuels are already being phased in, with more than 50 airlines collaborating to some extent with SAF. More than 450,000 flights have already taken off with some percentage of SAF blend.
Last year, regional Swedish airline BRA became the first to test a flight using 100 per cent SAF powering both its engines, according to SAF supplier Neste. And production has increased, up 200 per cent from 2021 to 2022, per International Air Transport Association (IATA) estimates.   
Reference- National Geographic, IATA website, Sustainable Aviation Fuel website, Shell, EPA website, CN Traveller