The decreasing price of solar modules since October 2022 will increase the profitability of 45 GW of utility-scale solar projects awarded since fiscal 2021. As a result, the implementation of solar capacity will reach its highest annual rate of 16 GW this fiscal year.
The implementation of certain projects was slower in the years 2022 and 2023 due to disruptions caused by the Covid-19 pandemic and efforts to protect the Great Indian Bustard bird. Authorities granted extensions for these projects. Additionally, an increase in module prices also contributed to the delay in their execution.
The decrease in module prices and the resolution of issues related to the protection of the Great Indian Bustard are expected to speed up the implementation process by fiscal 2026.
In the last quarter of fiscal 2021, the trend of decreasing module prices in the solar industry changed due to increased costs of raw materials like polysilicon and aluminum. This had a negative impact on the expected returns of around 20 GW of solar projects that were auctioned in fiscal years 2021 and 2022.
Developers had anticipated the fall when bidding for these projects, but the actual prices increased. Module prices are usually determined closer to the installation period, which is typically 6-9 months.
If the projects that were auctioned during fiscal years 2021 and 2022 had been implemented on time, the average Internal Rate of Return (IRR) for these projects, which totaled around 20 GW, could have dropped to as little as 5%. In fact, some of these projects may not have been financially viable on their own.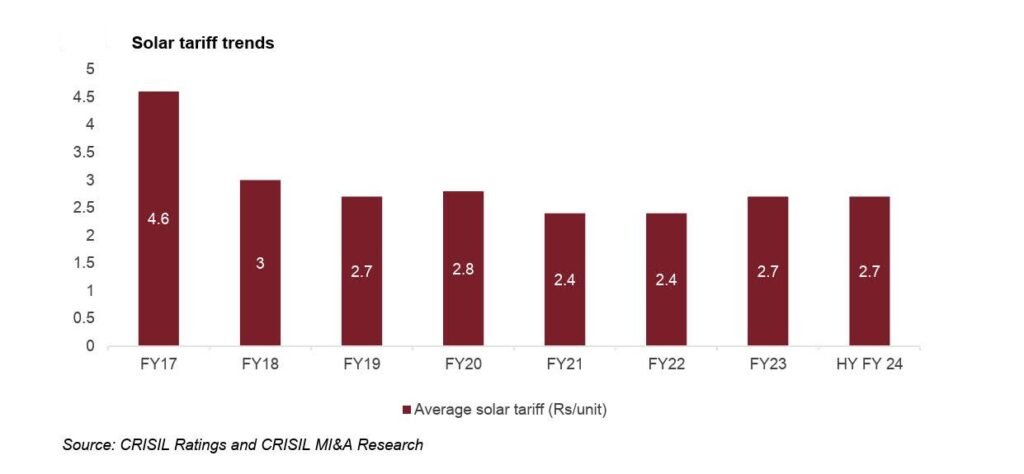 The delay caused by the pandemic has allowed developers to postpone buying modules for their projects. Now that module prices have decreased by around 30%, project internal rates of return (IRR) may increase by 300-500 basis points, reaching an average of 9%.
The decrease in module prices will also have a positive impact on 25 GW of projects that were bid on and awarded since fiscal 2023. These projects had higher bid tariffs due to higher module costs, but with the decrease in prices, their IRR is expected to improve by 200-300 basis points.
Reference- CRISIL Ratings PR, Mercom India, Economic Times, Money Control, CNBC TV18