If you are looking to buy an electric vehicle (EV) for your business or personal use the interest rates on the loan for the them will likely be higher than a comparable diesel- or petrol-powered vehicle plus you will also be asked for a larger down payment.
Why is this?
Risk is the main cause for these financing challenges. An Electric Vehicle is considered a riskier class to finance than an internal combustion engine vehicle.
Electric Vehicles face a range of risks that can be categorized as
asset risk – includes risks related to technology, policy, manufacturing, and resale.
business model risk – includes risks related to customer profile, expected utilization, and operations and maintenance.
Together, these pain points make finance a considerable barrier to EV adoption.
The quantity of capital and finance required for India's Electric Vehicle future is considerable. An analysis estimates that the cumulative capital cost of the country's EV transition between 2020 and 2030 is INR 19.7 lakh crore across vehicles, charging stations, and batteries.
The projected size of the annual loan market for EVs in 2030 is INR 3.7 lakh crore.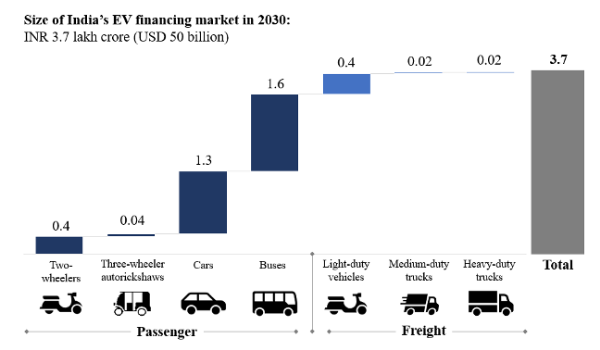 Considering the future capital and financing requirements for India's EV transition, it is important to start developing solutions to enable finance for EVs today. Five powerful solutions that can address this issue are –
Priority sector lending (PSL)
Interest rate subvention
Product guarantees and warranties
Risk-sharing mechanisms
Secondary market development
While India's vehicle finance industry is unique, the risks of financing EVs are universal. If India can work towards mainstreaming solutions to lower the cost of capital for EVs, it could not only help lower your interest rates and down-payments, but also accelerate domestic adoption and set an example for other nations to follow.
Reference- NITI Aayog Report, Clean Technica, InsideEVs, RMI (previously Rocky Mountain Institute) Research Report