According to the International Energy Agency (IEA), global carbon dioxide emissions dropped by 5.8% in 2020 as the COVID-19 pandemic slowed economic activity, but they rebounded at the end of the year and are on course to rise further.
Major economies led a rebound in December when emissions were 2%, or 60 million tonnes, higher than in December 2019, as a pick-up in economic activity increased energy demand.
Primary energy demand fell 4% in 2020 as lockdowns and other restrictions limited industrial activity and transport.
China, the world's biggest emitter of greenhouse gases, was the only country that experienced an increase in emissions last year of 0.8%, or 75 million tonnes, from 2019 levels, the IEA said in a report.
In India, the world's third biggest emitter, emissions rose above 2019 levels from last September as economic activity increased and restrictions were relaxed.
The 2020 trends underscore the challenge of curbing emissions while ensuring economic growth and energy security, says, IEA.
Amid a growing number of pledges by countries and companies to reach net-zero emissions by mid-century, the rebound in emissions shows what is likely to happen if those ambitions are not met with rapid and tangible action.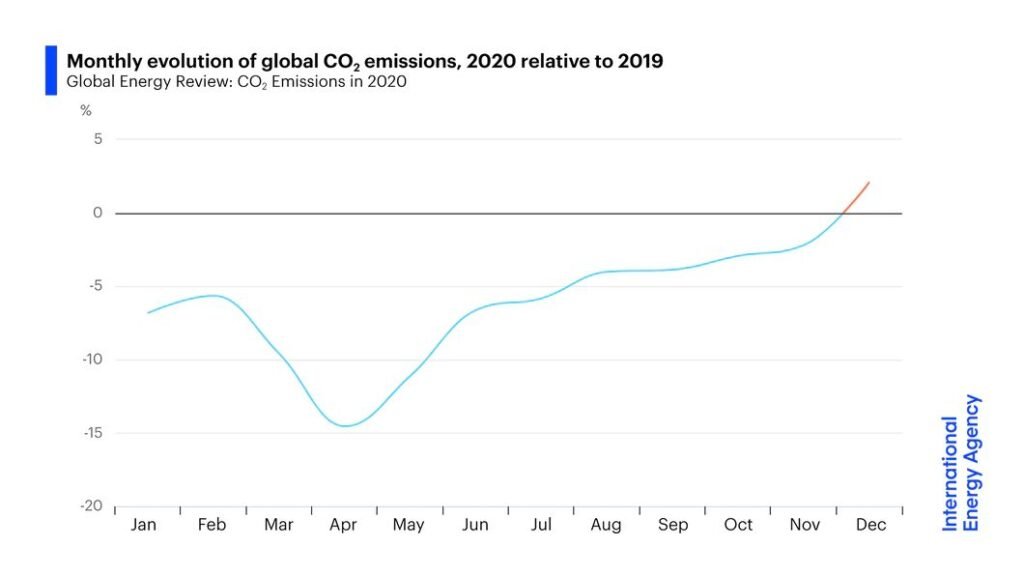 The rebound in global carbon emissions toward the end of last year is a stark warning that not enough is being done to accelerate clean energy transitions worldwide.
If governments don't move quickly with the right energy policies, this could put at risk the world's historic opportunity to make 2019 the definitive peak in global emissions.
Reference- The Wire, IEA Report & website, The Guardian, BBC