Omega Seiki is partnering with New York-based company C4V to bring solid state battery development to India. This will make C4V the first lithium-ion cell maker with solid state technology in India.
The Memorandum of Understanding signed between the two companies will also see the manufacturing of solid-state batteries for the first time in India, which will find a usage in Omega Seiki's range of electric vehicles.
Initially, C4V will be supplying Omega Seiki Mobility (OSM) a Bio-mineralized lithium mixed metal phosphate battery (BM-LMP), which is free from toxic and hazardous components, as well as nickel and cobalt free.
It has an energy density of 200W/kg, which is 20% more than the lithium ferrous phosphate batteries available in the market. These are also more affordable and safer than traditional batteries.
Eventually, C4V plans to produce solid state batteries with 400Wh/kg energy density in India to cater to the EV and renewables market.
Adoption of these batteries in OSM electric vehicles would accelerate the adoption of safer and affordable EVs in the Indian market.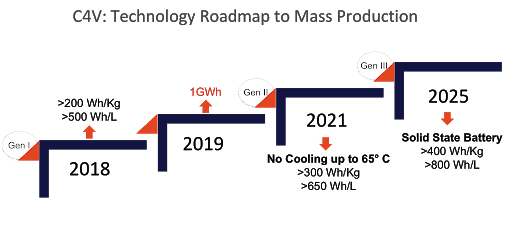 Based on life cycle assessment certification done by New York State Government's NYSERDA, the batteries are one of the greenest in the world right from the extraction of raw materials to the manufacturing and recycling.
In fact, it has almost 85% less carbon footprint than the ones in the market while having twice the life cycle of traditional lithium-ion batteries.
Omega Seiki is all set to revolutionize the electric vehicle market in India with these new C4V batteries. Not only are they environment friendly but also have higher energy density, allowing vehicles to go the extra mile.
Reference- Omega Seiki Online PR, Financial Express, PRNewswire, Economic Times