Battery-powered vehicles are enjoying a breakthrough moment, removing any doubt that the internal combustion engine (ICE) is on its way out. The car business is being reshaped by electric vehicles.
New light-duty plug-in EV sales nearly quadrupled from 308,000 in 2020 to 608,000 in 2021, comprising all-electric vehicles (EVs) and plug-in hybrid electric vehicles (PHEVs). In 2021, EV sales accounted for 73% of total plug-in electric car sales.
Electric Vehicle sales increased by 85 percent between 2020 and 2021, while PHEV sales more than doubled, increasing by 138 percent over the previous year. Meanwhile, ICE car deliveries were dormant. EV orders are so strong that manufacturers want payments far in advance of estimated delivery dates.
The transition of personal transportation to all-electric vehicles is unmistakably altering the auto industry. Tesla, under by CEO Elon Musk, delivered almost a million vehicles in 2021, a 90 percent increase over the previous year.
Wedbush Securities expects the electric vehicle sector to reach a $5 trillion business by 2030, describing the shift as a "green tidal wave" powered by a "huge headwind." These trillions of dollars will be used to renovate and create factories, train personnel, develop software, and enhance dealerships, among other things.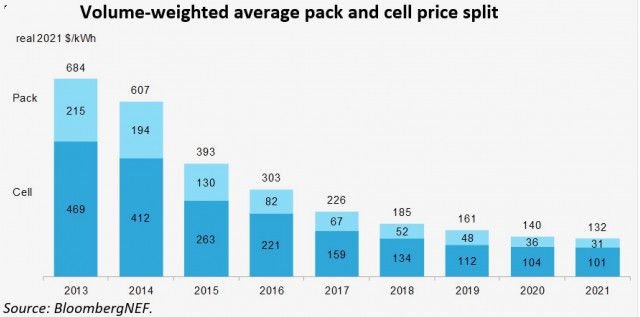 Within the next six years, the lowering cost of creating batteries for EV, along with dedicated production lines in carmakers' factories, will make EVs cheaper to buy than gas-powered cars on average.
Reference- The New York Times, clean Technica, EV Obsession, Inside EVs,