Olectra Greentech Limited (OLECTRA) is India's pioneer and market leader in electric mobility. It operates an electric bus fleet successfully in Surat, Mumbai, Pune, Silvassa, Goa, Nagpur, Hyderabad, and Dehradun.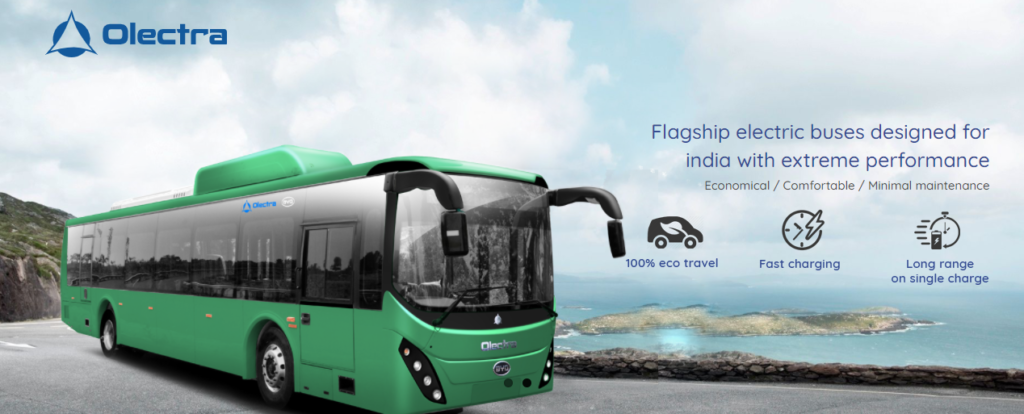 Olectra has added 150 more electric buses to its Pune fleet, bringing the total number to 300, making it the largest number in any city in India. They are also present in Mumbai and Nagpur, and as of January 31, 2022, they have traveled over three million kilometres.
The business has already supplied over 600 electric buses to various state transport undertakings (STUs) and has clocked over five million kilometres on Indian highways.
Olectra is the first company in India to introduce 7, 9, and 12-metre electric AC buses. It now has 1,523 orders for electric buses from several STUs. It intends to enter the inter-city / inter-state private transportation segment as well as the staff transportation segment in the private sector.
It is the only company that manufactures tarmac electric buses for airports.
The firm has planned a huge expansion in response to rising demand for electric buses from STUs and the private sector. It purchased 150 acres from the Telangana government in order to build a cutting-edge, fully-automated robotic manufacturing factory.

With the increased capacity, Olectra intends to produce 10,000 buses each year. The firm intends to significantly extend its product range by introducing trucks, LCVs, three-wheelers, and other electric vehicles.
This is a Business Wire Feed; edited by Clean-Future Team