H2FLY, a German aerospace company, has set a new world altitude record with its four-seat HY4, which became the first hydrogen-powered passenger aircraft to reach an altitude above 7,000 feet (approximately 2,135 metres) last week – less than a day after the HY4 made the first European flight in a hydrogen-powered passenger aircraft from Stuttgart to Friedrichshafen.
The trip took the aircraft to Friedrichshafen in order to participate in the AERO Friedrichshafen airshow, which began on April 27th. The HY4 will be shown to the public for the first time and will be on display until the end of April. Until recently, the HY4 has only been tested in the region surrounding Stuttgart Airport. infrastructure.
During multiple flying campaigns and more than 90 takeoffs, the four-seat HY4 effectively established the usefulness of hydrogen-electric propulsion systems in aviation.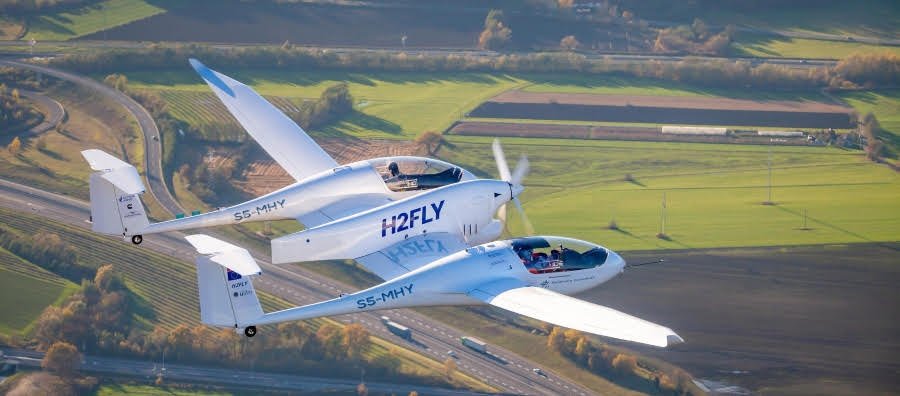 It also acts as a testing platform for the propulsion system, laying the groundwork for the construction of a hydrogen-electric-powered, 40-seat Dornier 328, which will be built in collaboration with Deutsche Aircraft by 2025.

H2FLY GmbH, founded in 2015 by five engineers from the German Aerospace Center in Stuttgart and the University of Ulm, is attempting to bring the first certified, entirely hydrogen-electric aircraft powertrain to market. The world's first hydrogen-electric passenger aircraft, the HY4, took launched in 2016, proving both the capability and potential of this technology for future aviation.
Reference- H2FLY website & PR, Clean Technica, Futurism, electrive.com