According to a new BloombergNEF research, the worldwide tipping point for battery electric vehicle (BEV) ascendency has been achieved. Although the acceptability of EVs differs each country, a trend has formed.
"Once 5% of new-car sales go fully electric, everything changes — according to a Bloomberg analysis of the 19 countries that have made the EV pivot."
The electric vehicles, like the smartphone, will become commonplace in the near future. Some have even compared driving an ICE to smoking: it will be not just odd, but also antisocial and harmful to your health.
"The United States is the latest country to reach what has become a significant electric vehicle tipping point: 5% of new car sales powered only by electricity." This level marks the beginning of widespread EV usage," Bloomberg writes.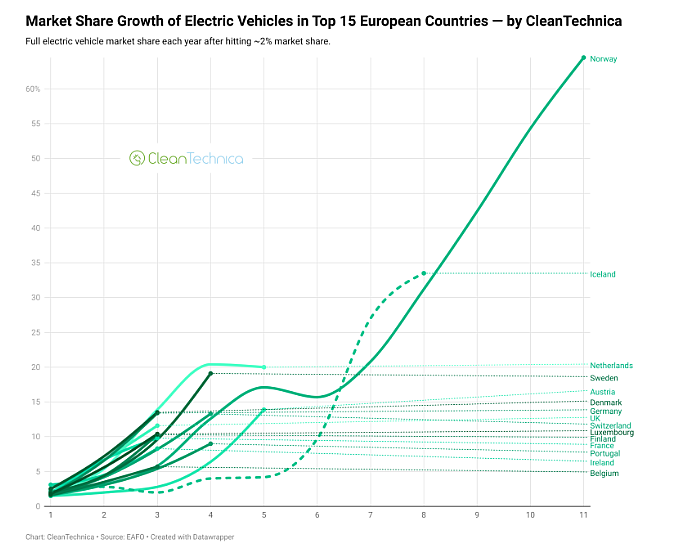 "Thus, the South Korean adoption curve beginning in 2021 looks a lot like the one adopted by China in 2018, which is akin to Norway following its first 5 percent quarter in 2013." Canada, Australia, and Spain are among the next big vehicle markets to reach a tipping point this year, according to Bloomberg.
The United States and China mostly avoided plug-in hybrids in favor of all-electric cars. Every country that has reached an EV tipping point has a federal incentive scheme and environmental regulations in place.
Car manufacturers are racing to get their electric vehicles to market, with Tesla, Volkswagen, and BYD all declaring ever-increasing production targets. In the next 12 months, these three automakers alone intend to build almost 4 million BEVs. Even laggards like BMW are aiming for 50% of their production to be BEVs by 2030.
Reference- BloombergNEF Article, Clean Technica, Top Speed, EV Obsession, Electrek