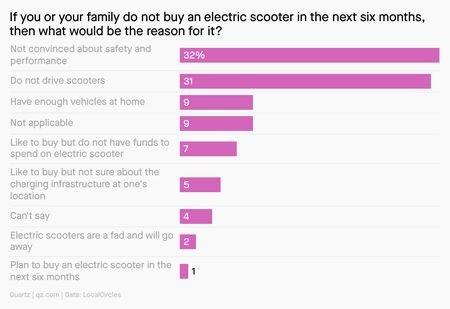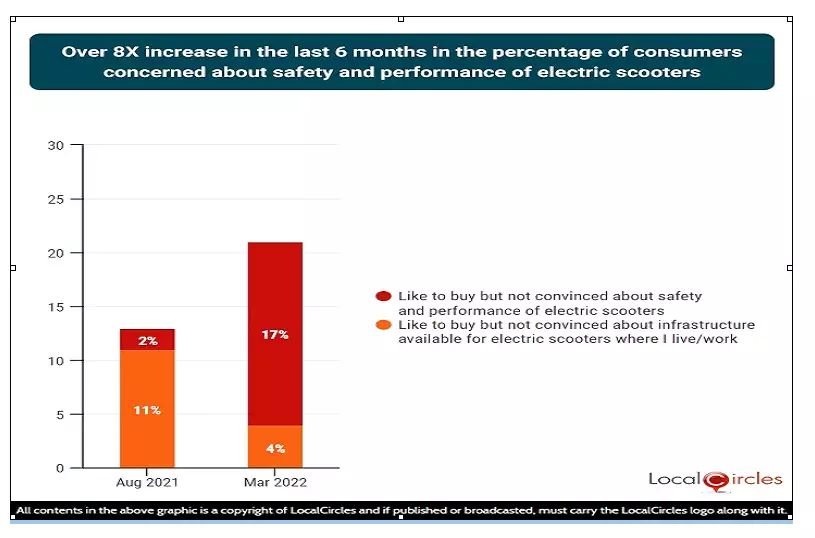 Only 1% of home customers expect to purchase an electric scooter in the next six months, according to a poll done by community social media platform LocalCircles, citing safety and performance concerns.
In August, over 32% of respondents remained unconvinced about the safety and performance of electric scooters, because of the fact that more than two dozen electric two-wheelers caught fire in March and April, prompting the government to launch an investigation.
They have formed a team of specialists from the Center for Fire, Explosive, and Environmental Safety (CFEES) and the Indian Institute of Science to conduct extensive research and develop 'quality-centric' recommendations for EV producers, which are likely to be issued soon.
Despite the fact that about 7,000 units were "voluntarily" recalled by electric scooter manufacturers such as Ola, Pure EV, and Okinawa following the fires, the damage appears to have been done, as just 1% of over 11,000 respondents stated they want to buy an e-scooter in the next 6 months.
"The fire accidents, which resulted in injuries for some as well as vehicle loss, negatively influenced customer emotions, leading to a two-month fall in electric vehicle two-wheeler sales," according to the study.
Customers are delaying purchases of EVs due to battery fire accidents, according to Ather Energy and Ola Electric. If we are to transition to a clean future, the government and business must first gain customer trust.
Reference- LocalCircles Survey, Digit, Inside EVs, Economic Times, Autoblog