From the more commonly recognized barley, spelt, and farro, to the lesser known kamut, teff, and sorghum, ancient grains are a grouping of grains and cereals that date back to prehistoric times.
Ancient grains, unlike certain current wheat products, have not been genetically manipulated or developed. They has not been refined in the same way as white rice, white bread, or white flour have. Because they haven't been stripped, they are richer in protein, omega-3 fatty acids, B vitamins, and zinc. They also contain a lot of fiber.
According to the FAO, just around 200 of the 6,000 plant species farmed for food contribute significantly to world food supply, and only nine account for 66% of overall crop production.
This is due to growers selecting crops with the highest yields. Only three crops now produce about half of the world's calories: rice, wheat, and corn.
Agriculture has become vulnerable to pests, plant-borne illnesses, and soil erosion as a result of its reliance on a small number of crops, all of which thrive on monoculture – the practice of producing just one crop at a time.
As the effects of the climate crisis become more visible, farmers throughout the world are rediscovering historic crops and inventing novel hybrids that may be more resistant to drought or diseases while also providing critical nutrients.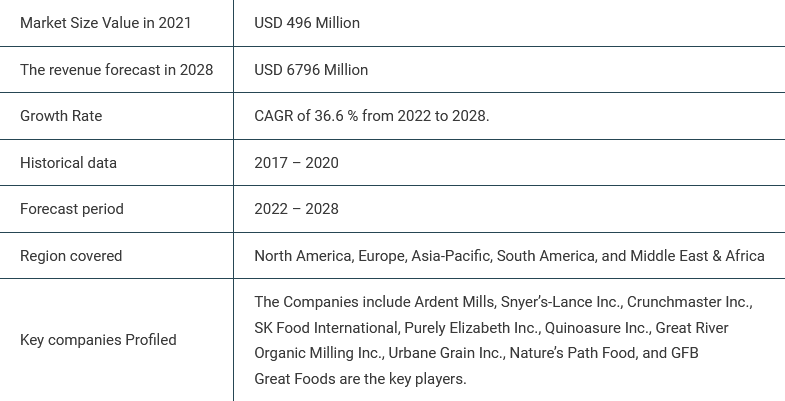 The global ancient grains market is predicted to reach $6796 million by 2028, growing at a compound annual rate of growth (CARG) of 36.6% between 2022 and 2028.
Certainly, Covid shutdowns impacted all food and beverage industries, but demand for ancient grains has remained fairly stable. As the demand for healthy and organic foods grows, so does the ancient grains industry. It also gives the goods remarkable uniformity and taste. Ancient grains are also utilized in cosmetics, medical industries, and pharmaceuticals, separated from food.
What kind of recipes use ancient grains? Almost everything can incorporate ancient grains: from cereals, salads, loaves of bread, and crackers to pizza, quiche, bars, shakes, and yogurts.
Reference- SINGGETSU Report, Clean Technica, Futurism, The Guardian, Reuters, Popular Science