The American Bureau of Shipping (ABS) has been lending its expertise to promote the rapid expansion of the floating wind business, which is based on a relatively new technology.

The criteria for "the floating substructure, the station-keeping system, and onboard machinery, equipment, and systems including applicable marine systems and associated equipment and machinery, safety systems and associated equipment, and lifesaving appliances and machinery" are outlined in a floating wind turbine guide that ABS published back in 2020.
The Bassoe D-Floater, which ABS characterizes as a "new breed of floating offshore wind turbine foundations, intended to accommodate the biggest wind turbines in the world," is the most recent in a line of wind turbine projects to cross its desk.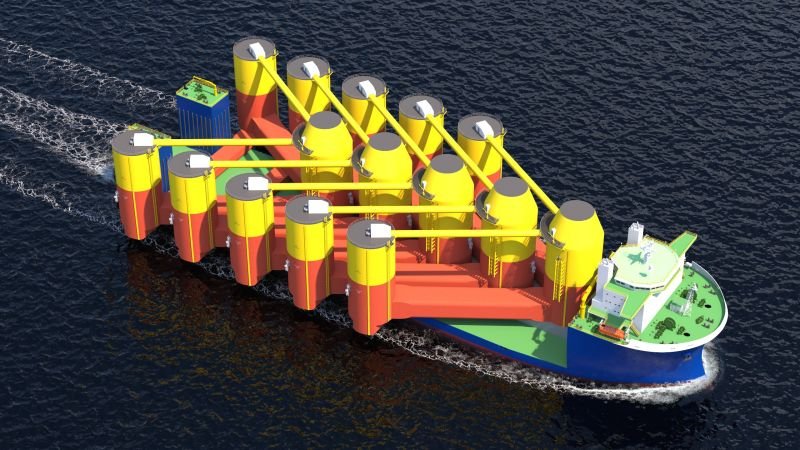 A variety of components are included in Bassoe's D-Floater with the goal of lowering the cost of floating offshore wind farms. Stackability is the main characteristic. For more economical shipping, the D-floater is made to stack in groups of up to five aboard a single vessel.
The offshore developer may have greater freedom to select a reputable shipyard to construct the floating platforms thanks to those savings. It is possible to construct the platforms at one shipyard and transport them to another to be fitted with a turbine before being pulled out to sea.
Additionally saving space at shipyards, the stacking feature enables additional onshore storage. That might allow the freight vessel to turn around more quickly.
In a press release announcing its approval of the D-Floater in principle, ABS also noted that it has been "instrumental in the formulation of global standards for wind platforms and for the design and fabrication of floating wind installations."
"ABS understands the needs of owners and operators to enhance operational efficiencies with sustainable energy solutions," the company added.
This is Businesswire Feed; fake checked and edited by Clean-Future Team