Waaree Energies, a manufacturer of solar panels, is in negotiations with HNIs and family offices to raise 1,000 crore at a value of 13,000 crore to help fund its capital expenditure plans.
The transaction is intended to secure funding for Waaree's 8,000-crore capex plan, which would see the company set up 6-GW (gigawatts) of manufacturing capacity for solar modules, cells, ingots, and wafers under the production-linked incentive (PLI) scheme.
The business has already secured pledges totaling around 600 crore. In this round, the promoter group will spend around Rs. 200 crore.
The current fundraising round comes barely six months after the business collected Rs 1,000 crore from HNIs and family offices in an equity transaction managed by ValueQuest Investment Advisors with a total investment of Rs 500 crore.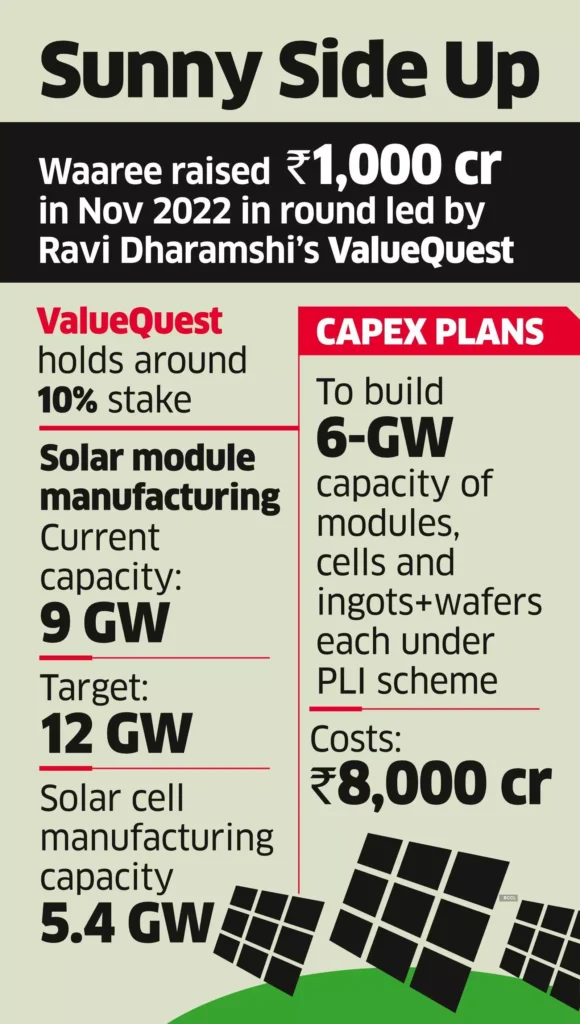 With 9 GW capacity, Waaree now has the largest solar panel/module production footprint in the country. Its most recent capital expenditure plan is projected to be completed by FY26. The firm is in the midst of establishing a 5.4 GW cell production capacity and growing its module manufacturing capacity to 12 GW from 9 GW.
Waaree controls more than 20% of the market and is India's largest exporter, accounting for 70% of the market. Its order book has seen a jump from $1 billion to $5 billion in last 12 months.
Reference- Waaree website, Economic Times, Business Standard, The Financial Express