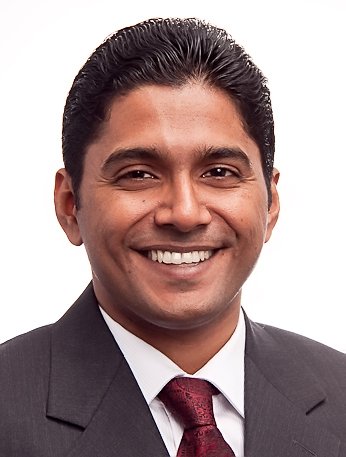 Clean Future got an opportunity to understand from Mr. Vinod Paremal, Regional President, Evonik India Subcontinent, as to how Evonik plans to support India's green energy initiatives by turning organic waste into green energy sources.
---
Please tell us about Evonik India and its product offerings for this region.
Evonik is a creative industrial group from Germany and is one of the world's leading companies dealing with specialty chemicals. In India, Evonik is represented in a wide array of business verticals through their 4 divisions – Nutrition & Care, Specialty Additives, Smart Materials, and Performance Materials. Evonik has been active in the country for almost four decades via erstwhile companies.
Today, Evonik's long-term interests in the Indian market are made evident by the establishment of the following facilities by the company in the country:
Head office located in Mumbai
Production sites of Silica and Catalysts
Global Research, Development & Innovation centers for Health Care and Catalysts
Application Technology Labs for Coating Additives, Silica, Animal Nutrition, Functional Silane, Interface and Performance
Tell us about your recently launched product 'SEPURAN® Green membrane' and its association with SATAT.
One of our key focuses in India has been our Polymer-based membrane technology, named SEPURAN® Green for Biogas purification.
A key requirement before biogas can be used as a Biofuel or fed into the natural gas grid is an extensive upgradation and purification process that removes impurities.
SEPURAN® Green patented solution, with more than 600 references worldwide, has the highest CO2/CH4 selectivity and is therefore, a superior technology for upgrading biogas. This superior selectivity of the membranes enables the production of high purity biomethane with increased methane recovery, distinguishing the Evonik membranes from other membranes that are available for biogas purification.
The Indian Government, under their flagship SATAT (Sustainable Alternative to Affordable Transportation) initiative, envisages setting up 5,000 CBG plants by 2023-24 with a production target of 15 MMT.
We believe that SEPURAN® Green can play an integral role in envisaging the vision defined under SATAT initiative, in collaboration with various stakeholders.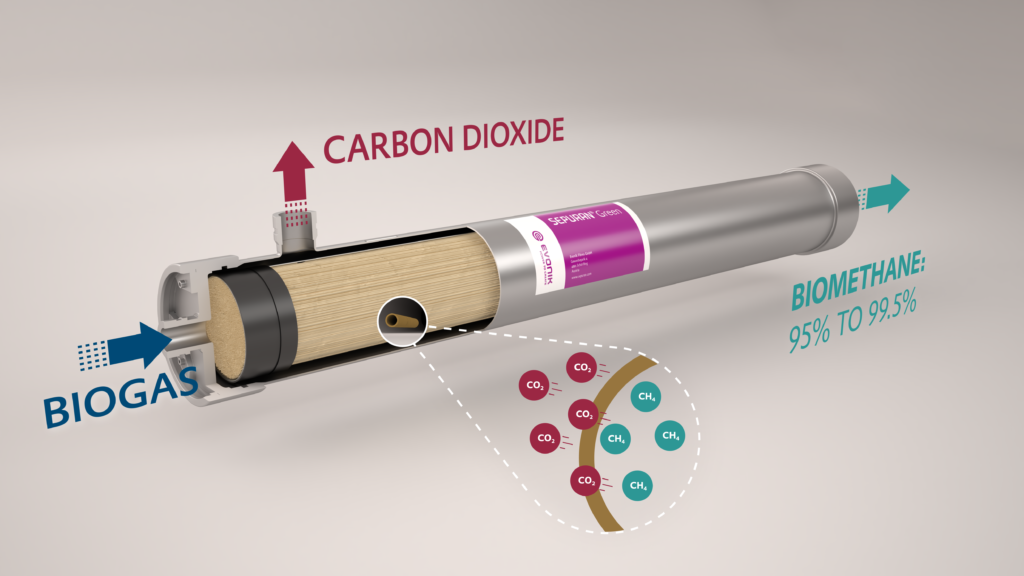 Can this biogas upgrading technology be retrofitted?
The SEPURAN® Green high-performance membranes are manufactured as modules and cartridges. The modular design enables existing CBG plants to be expanded without major structural effort. One decisive benefit here is the minimal period of interruption for expansion work.
Replacing already obsolete technologies by SEPURAN® Green membranes is possible as well.
What is the advantage of upgrading?
With more than 600 references worldwide, the benefits are manifold with SEPURAN® Green, when compared to traditional technologies for biogas upgradation and enrichment. The product offers –
The best price-performance of all biogas purification technologies
High methane yield of up to >99 % and high purities >99% (patented 3-stage process)
Gas fluctuation allowed range – 0 to 100% capacity
Highest energy efficiency (~ 0.2 kWh/Nm3 raw biogas)
Easy to operate, fast start & stop
No spare part needed, little maintenance
Biomethane provided at system pressure (16 Bar), dry, and in pipeline specification
No chemical use and no wastewater
Easy to scale up – containerized system
In addition, the SEPURAN® Green technology offers the purified CBG to be fed directly into the Gas grid as it offers a consistent quality of biomethane, compared to other traditional technologies plus it can handle multiple feedstock options such as Agricultural waste (e.g., paddy straw), Press mud from the Sugar industry, Cattle dung, Poultry waste, Municipal Solid Waste (MSW), Wastewater treatment plants, and Landfill.
What is your go-to-market strategy for your membrane-based product?
We have been closely working with various OEM partners in India to define a strategic partnership, for Evonik SEPURAN® Green membrane technology deployment across various projects in India.
We have been also engaging with relevant stakeholders in in Oil and Gas marketing companies, relevant ministries of Government of India to participate in technology driven awareness campaigns on SATAT initiative, to generate awareness and interest amongst investors and entrepreneurs on the benefits of CBG projects.
How would you describe the current market situation for 'Biogas' in India?
For a country like India, the scope of biogas is immense, owing to the availability of large biomass. The Indian government intends to build 5,000 CBG units under the SATAT project by 2023-24, with an output target of 15 MMT.
Indian policymakers have given a positive thrust to this market to gain significant interest from investors and entrepreneurs. As of May 2021, 1550 LOIs have been issued, 12 plants have been commissioned and 1369 Tonnes of CBG have been sold.
Technology innovation that helps CBG projects become profitable and sustainable will be crucial for fueling the next stage of growth for the CBG sector.
What are the other steps Evonik is taking to reduce its carbon footprint and focus on sustainability?
Globally, our goal is to reduce absolute CO2 emissions by 50 percent by 2025 (from base year 2008).
In India as well, Evonik is striving to serve strategic market in its growth needs by introducing sustainable, innovative products & solutions and is committed to the initiatives by the Government of India for achieving Energy Aatmanirbharta (self-reliance) by increasing reliance on Biofuels in the country.
Sustainability is a central element in our purpose "Leading Beyond Chemistry". As a specialty chemicals company with a presence throughout the world, Evonik sees sustainability and long-term business success as two sides of the same coin.
Our approach is to develop low carbon footprint technologies and offer circular economy solutions.
This is a Clean-Future Exclusive