BYD structural battery packs have arrived at the Tesla facility in Grünheide, Germany. The packs have a capacity of 55 kWh and use BYD's LFP Blade battery cells, which were created to lessen the risk of battery fires associated with standard lithium-ion battery cells while simultaneously delivering a cost-competitive solution for electric vehicles.
Tesla has already received type certification from the EU for the new model. The BYD battery announcement highlights how quick manufacturers must be when it comes to procuring batteries for electric vehicles.
The Model Y constructed in Germany was scheduled to use Tesla's newest 4680 battery cells, but due to manufacturing delays, the first cars off the line were outfitted with the more common 2170 cells that the firm has been using for most of its cars for years.
Then, last year, Tesla said that it will deploy CATL 60 kWh battery packs in a single-motor Model Y with a range of 455 kilometers. The exact date and reason for the transition to BYD is unknown, however the range is expected to be 440 kilometers.
We believe that both economics and efficiency favor BYD, as these battery packs cost €55 per kWh whereas CATL costs €60, plus BYD pack weighs 66 kilograms less than the CATL pack, which helps decrease power consumption to just 155 watt-hours per kilometer.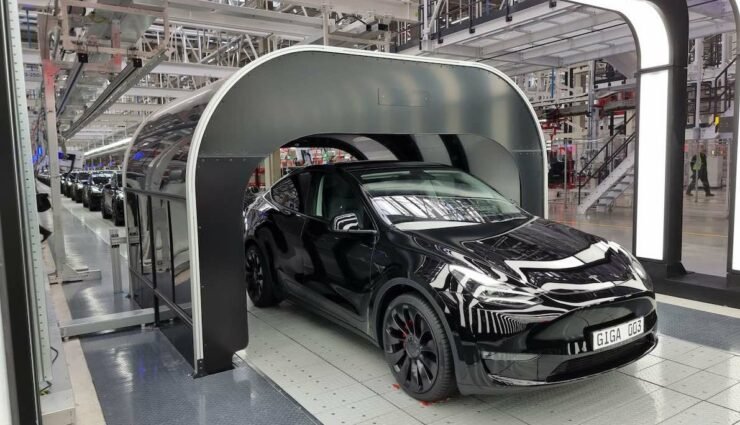 Overall, it appears that Tesla is attempting to build a less priced Model Y during a period of high inflation in Europe. Range expectations are also lower among Europeans than among Americans, thus the shortened range may not be as concerning as it would be in the US. The cars with the BYD structural battery packs will begin rolling off the line later this month or in early September.
Reference- TeslaMag, Electrive, PushEVs, Clean Technica, Tesla website